BELLA VISTA, Ark. — The search for missing 74-year-old Barbara Doyle continues this week according to the BVPD.
According to an update through court filings they are gathering security camera footage from area businesses and also gathering electronic data to see who could have been in the area and seen Doyle that day walking.
Monday, August 23, 9:45 a.m. — "Last week we brought in cadaver dogs to do searches in the original area, but nothing was found. We worked last week also to secure warrants for some electronic searches and to gather electronic data, which helps determine different people who may have been in the area when she went missing. This data is hefty, and we will be continuing this week on those efforts, while we continue to do ground searches as well. We are tracking down every possibility, such as she wandered farther than we originally thought and that perhaps she was picked up. We appreciate everyone's continued support."
Barbara Ann Doyle, 74, authorities believe she walked away from a facility Thursday, August 12. She was seen on security footage (see missing poster). The family are working closely with BVPD. The Morgan Nick Foundation is assisting, and a $10,000 reward has been offered by an anonymous donor.
An anonymous donor has offered a $10,000 reward to assist in the search for Barbara Doyle. Barbara has been missing for one full week. Please continue to share her poster. #MissingAdultsMatter ♥️

Posted by Morgan Nick Foundation on Friday, August 13, 2021
BARBARA ANN DOYLE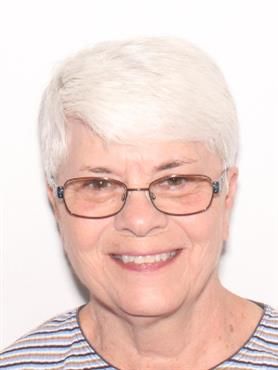 Sex: Female
Race: White
Height: 5′
Weight: 125
Hair: SHORT, WHITE HAIR
Eyes: BROWN
Complexion is described as: FAIR
Anyone having information should contact: BELLA VISTA POLICE DEPARTMENT (479) 855-3771
What is the Morgan Nick Foundation…
Stay with Joplin News First for Breaking News and more on our news tab at FSHP.  Subscribe to our daily newsletter so you don't miss an article. Click here then check the box next to our name and click subscribe.